Canada Cruise on the Carnival Glory - June 9th to 16th, 2013
Our course, on the ship's terrible video map, which cruelly truncates Syndey.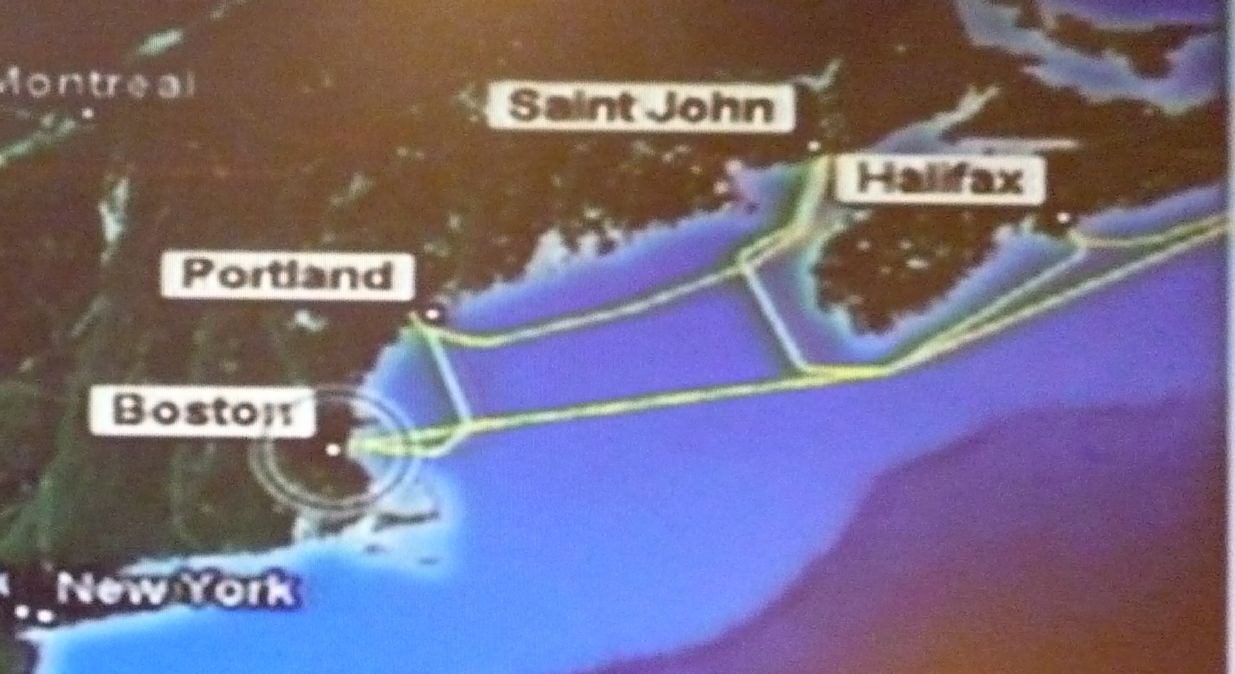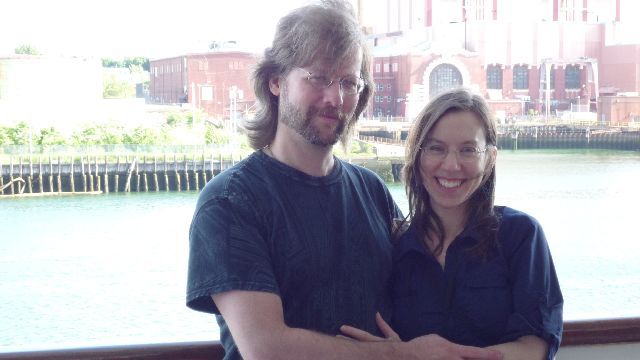 Alex and Jennifer at the rail of the Carnival Glory.
Day 1 - Sunday 9 June 2013 - Boston, Massachusetts, USA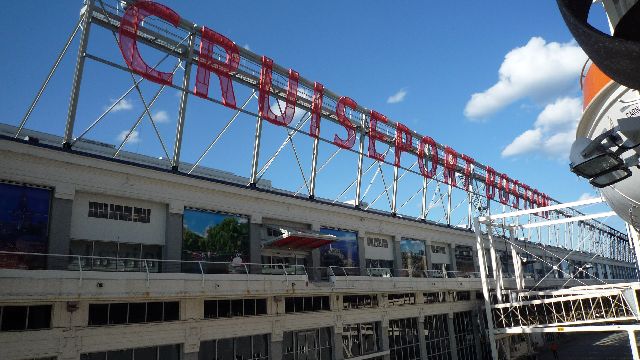 Left from my parents house just after noon and arrived at the port in Boston at 1:30pm. The boarding process was a bit different than our first cruise out of New Orleans, but quite seamless in any case. Apparently the advertised boarding window of 1-4pm is incorrect, as checking in and boarding earlier are definitely allowed. One staff member who told us this said that the staff are actually waiting around all day for cruisers to arrive. This explains how we were able to board the ship by around noon the first time around in NO!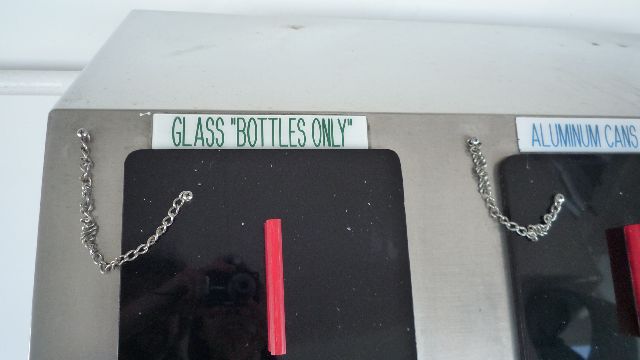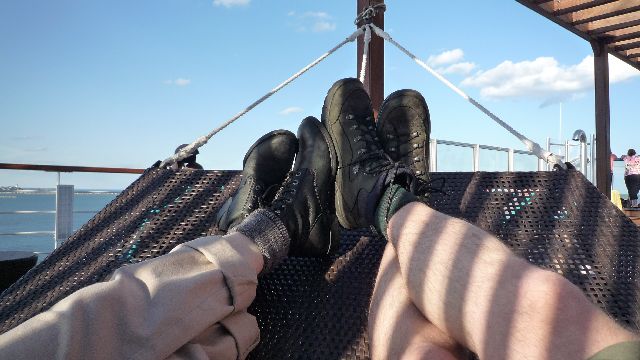 Carnival Glory is 50ish feet shorter than the Conquest. We found some interesting stuff wandering around the ship. I came up with an idea for a blog: photos of (signs with) extraneous quotations marks. For example, 'Glass "Bottles Only"'... so, this receptacle only accepts bottle-like things?! Another recent example (sadly, I missed a photo op as I hadn't yet conceived of the blog idea) in a mom-and-pop restaurant's restroom was more troublesome than the glass bottles sign: 'Employees "Must Wash" Hands Before Returning To Work'. But I digress.
Our bags were in our room within maybe two hours of boarding, quicker than the first cruise we were on. I hardly noticed, but our departure from the port was delayed by about an hour. We later heard that this was due to some baggage accidentally dropping into the water - two suitcases and a baby seat. I'm sure Carnival did everything appropriate for such circumstances, but even with reimbursement and cleaning (they did recover the luggage from the water), I'm sure it's a mighty inconvenience (meds, toiletries, ugh).
In line to check our bags, we met a young Canadian couple on their first cruise. They had taken a bus from Ottowa to Boston. We were able to help fill them in on some details of cruising using our sophomore cruising status. Turns out there are many Canadians on the cruise, the humor of which was pointed out even on the first night at the opening show: what's up with Canadians traveling to Boston to take a cruise up to Canada?! The main entertainment host/emcee is not as charismatic as the guy on our first cruise, who was funny and elegant in a very unique way. We now know that the entertainment is, in general, well-worth seeing. So we'll start early this time. Also of note, there are many more children aboard than on our cruise number one, which makes sense, because that was in March (the week before spring break in most places - ha!) and school is out in many places by now.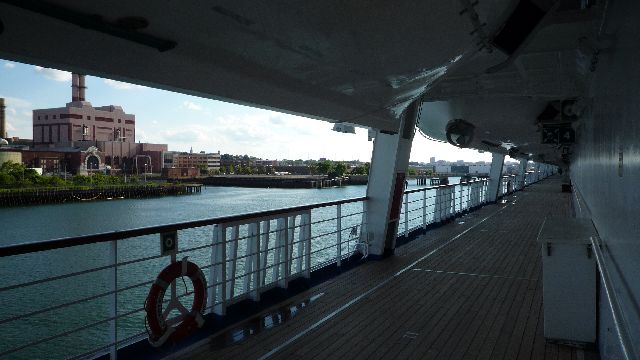 After boarding, we had some lunch, co-explored the ship, and did a bit of unpacking, I enjoyed a workout while Alex explored the ship. Then it was time for dinner; as on the first cruise, we chose the late seating, 8:15pm. Our dining experience was vastly different from our first cruise, in a good way. Instead of just one other couple, there are three other couples at our table. One neutral observation (okay, maybe not - I liked the other dining room's lighting better): this dining room is very well-lit, whereas our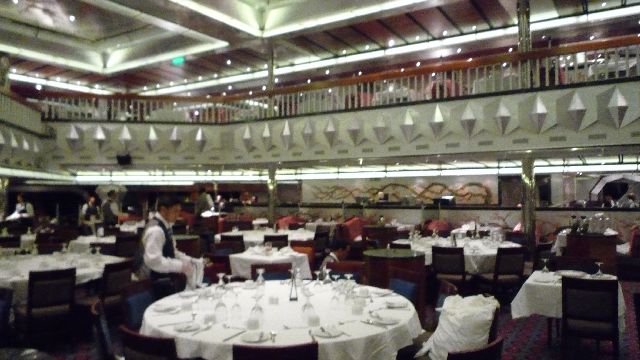 first was low, colorful/tasteful mood lighting, and the theme had deeper, darker tones. Walter and Judy are from AZ, probably 60 yrs old, and seem pretty liberal; they're experienced cruisers, have a room with a balcony, and are on the unlimited alcohol package, which they consider a good deal. Judy had three glasses of wine over the course of the dinner, and her eyelids were at half mast as she chattered on. Joanne and Kenny are a retired Asian couple from the Boston area, and despite apparently living here for over 30 years and owning a business (a mall food court resto, from the sounds of it), speak English that is limited enough to make conversation not quite relaxed. They were trying to recommend Copley Square as a post-cruise destination to W/J and it took several translation volleys.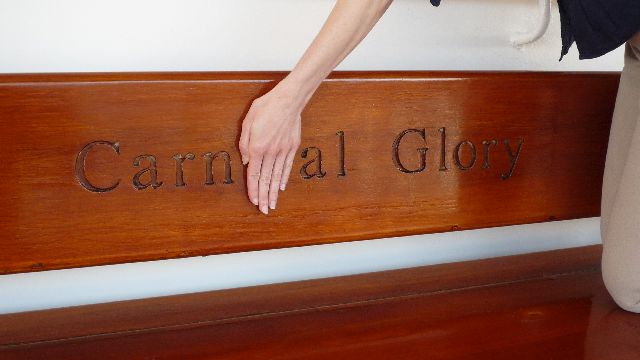 Other observations: the ship's library has very few volumes, and no reference materials as the Conquest did. There are more foreign-language books than English (we saw Swedish, Spanish, some Asian language?). We took a photo of a bench with the name Carnival Glory engraved into it. I put my hand over the 'iv', and we came up with this horrible line: There is no foreplay (four play?) in Carnal Glory. Har har har.
View from a foreward upper deck past the aft decks to an airport onshore,
While the Glory rotates to point out to sea.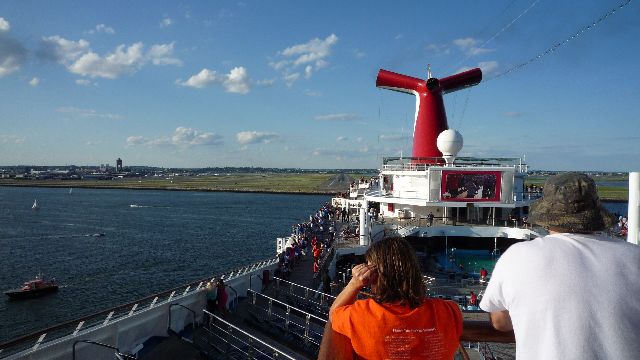 View from aft to fore, with the waterslide visible in the distance.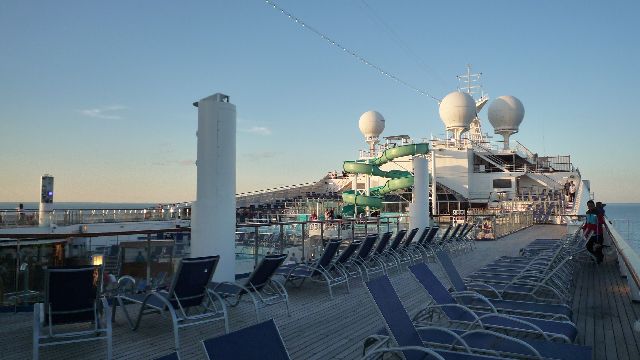 Day 2 - Monday 10 June 2013 - Portland, Maine, USA
It was my brother's birthday, and he was in Portland, Oregon visiting his girlfriend, so I was able to call him from the other Portland on his special day.
We had a leisurely morning, waking around 9am. We played Scrabble and read for about two hours in the dining hall, camped out in a half-booth (one side has a bench seat, the other side has chairs - which suits our respective tastes in seating surfaces quite well). I also knitted some. Productivity, even on vacation, makes me happy. This blog counts as productivity, too, and will also save me some time blogging when I get home, at which time I'll have plenty else to do.
After getting off the ship in Portland, We were handed a local map which also listed some businesses and attractions. Almost immediately I saw Maine Mead Works on the list, and it was within walking distance, so that was our destination. Mead always makes us happy. We arrived serendipitously just as a tour was about to begin, and after about 15 minutes of education, were treated to a tasting. This stuff was delicious (have a look at their website's mead list or the paper one we read). The conversation with the proprietor and the three other tour-takers (three Asians in the mid-to-late twenties from NYC) became more animated as the mead entered our systems. Delightful. We made plans to buy some mead when back in NH, and bring it home to TX in our checked baggage on the plane (Texas does not allow alcohol to be shipped in (retailers being the obvious exception)); the NH State Liquor stores sell their mead under the name HoneyMaker, and we confirmed later, by phone, that a store close my parents has plenty in stock (albeit of only two varieties, the Dry and the Sweet Blueberry, which were the ones we liked best anyway). The proprietor even said that it didn't matter profit-wise whether we purchased there at their factory storefront or at a store elsewhere.
Jenny quizzing the unprepossessing meadmaster and our tour guide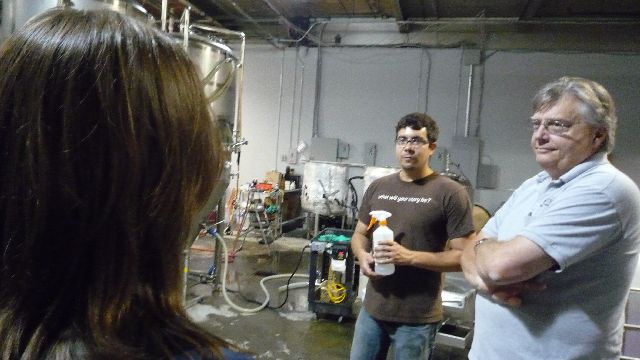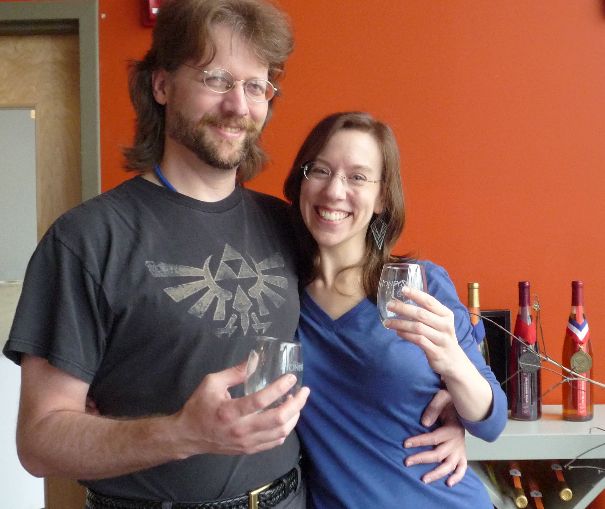 Us after a bunch of mead tasting ;-)
Note: We later found out the protocol for purchasing alcohol in the ports. The bottles are taken when you reboard the ship, and are held for you until the penultimate day on board. Then you reclaim them in time to get off the ship the next morning. Easier than I expected. I knew that they took them from you when you got back on, but envisioned the reclamation process being paired with disembarkation on the final day, which could delay the process significantly, one might imagine.
The Leash We Can Do, with a closeup of the sticker at the top left...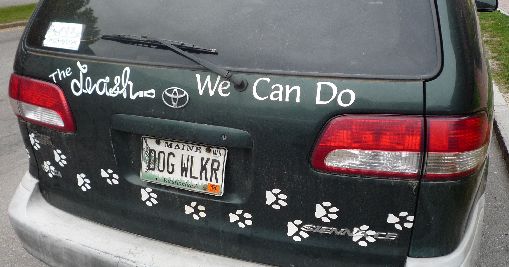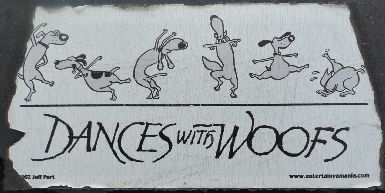 Dances with Woofs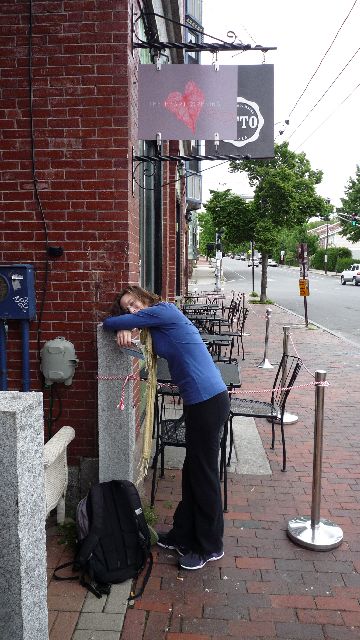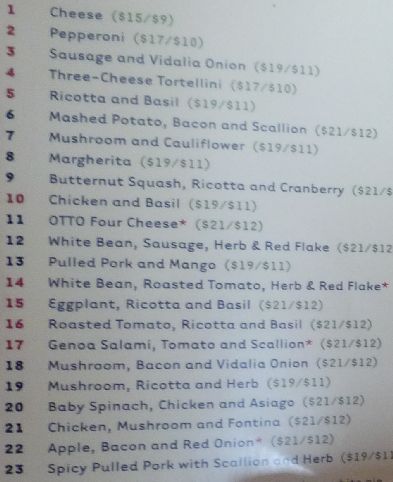 Our exploration of downtown Portland continued on foot, and we tried a slice of pizza at Otto, which has some very interesting flavor combinations. The crust was awesome. There's a pub called The Snug (in some Celtic-looking font), which just sounds so inviting and cozy (it opened at 5pm so we didn't get to go in). We saw a minivan with a company logo on it: The Leash We Can Do. Yeah, it's a pet care service. Their license plate was DOG WLKR, and they had a bumper sticker which said Dances with Woofs. Funny! We happened upon Dean's Sweets, and I remembered that I know the owners. We went in and met Kristen, wife of Dean. I know them from contra dancing and have even sampled some of their chocolates at NEFFA a few years back; Dean apparently always brings some to share. We bought a small assortment: dark chocolate outside all - blueberry, salted caramel, cherries, and cinnamon. The latter, Kristen said, is good with red wine so we plan to pair it with the wine we brought aboard.

The word
BOOKS
rendered in brick in a sidewalk; we both loved it.
We were back on the ship by 3pm or so, and had some late lunch, chatting with a few women nearby about various topics (cruising, gays in the military). At 5pm A dropped me at the gym for a free fitness class (mini boot camp type thing - it was a great workout, led by the South African Lerato, whom we'd met the first night at the fitness center's raffle (we didn't win anything but it was the most packed I've ever seen a gym!)). On the way back to the room, we stopped at the Taste Bar, which was sampling the ship's steakhouse offerings (spicy pumpkin bisque was good but the other sample was fried, as are too many things here). We had a leisurely two hours in which to shower and drink a glass of wine. Then it was dinner time.
Tonight's dinner was Cruise Elegant, which means that everyone dresses up a bit, to varying degrees. Which also means that the dinner may be better attended than usual, and we did have to wait in line to get in. We were the first to arrive at our table, and positioned ourselves strategically more toward the middle of the table (there are ten spots for only eight guests, five on each side of a rectangular table). The couple that seemed to be the most promising from a conversational standpoint did sit across from us, as we'd hoped (the first night, the husband had sat too far away to chat, and his wife had been absent due to a headache). Peter and Cathy are Canadians, retired, and definitely interesting to talk to. Peter has been in the Navy and was a civil servant of some kind, and has lots of stories. He definitely doesn't think that any music after the Beatles and Elvis is worth listening to, but we like the Beatles well enough for this not to be a problem; we don't need to try to sell him on Lady Gaga, though I do think it's sad that he doesn't appreciate the artistic achievements of the 80s and beyond. The other couples were essentially stuck with each other, which I felt bad about, but then, it's my cruise, and I don't want to spend it talking (a) about nothing in particular; (b) to a drunk lady. They were also apparently disgruntled this particular evening with the service, something about the coffee and the wine, but aside from the fact that our very busy dining room seems to serve more slowly than I'd expect, everything is fine. I don't actually enjoy being "waited on" (now that's a topic for discussion... too much to say here, now), so I am actually easy to please.
Notes: NB slang we learned from Peter: jump-up. Example sentence: "You wanna have a jump-up, you go to *that* place." Means something like "a really good time", I guess. (I would later seek clarification, after being challenged with using the term 'jump-up' while in one of the Canadian ports and failing. Turns out a jump-up necessarily involves alcohol and a pretty raucous time, not just a generically fun gathering. Now I know!) Peter and his wife do pronounce "about" in the typical Canadian way, but otherwise their speech is not very remarkably accented. When more animated, Peter said "ey" a lot. Recommended Royal Caribbean ship Freedom of the Seas. It's larger by 50% than the ship we're on and has some interesting features, including an indoor Promenade which has rooms with sound-proof windows overlooking it. He also recommended we use Jet Blue Getaways to plan flight/hotel combos: price out what you want, then call them and ask them to give you an estimate. Apparently you can make out pretty well sometimes, and the package deal they'll quote you will be way better and cheaper.
This evening marked the first time in my nine days of cruising that I've felt seasick. The restaurant is at the far aft of the ship and our table at the farthest back wall, so we are at the place where we'd feel the maximum pitch. I also started getting a wee bit stressed out during dinner, because although we were having some really good chats, I had planned to be out of there in time for a few shows, and we kept blowing deadlines. I wanted to gracefully bow out of more conversation while still communicating that I was really enjoying our talks, but it didn't work. I also noticed that when emotionally charged/stressed, the seasickness became worse. I felt as if I had had a glass of wine even before we started sipping the glass we brought to share! We got to dinner around 8:20pm and were still talking (albeit outside the dining room) at 11:15pm! We made the last comedy show, which was good, because that comedian won't have any more shows this cruise. He was raunchy and okay-funny. New comedians later in the week.
This night I slept quite shittily. There are engine noises beneath our room, and some other sounds which were more pronounced coming into port in the morning. And my roommate snores... This poor sleep was despite resorting to Dramamine. Hmmph.
Day 3 - Tuesday 11 June 2013 - Saint John, New Brunswick, Canada
We got up around 9-something, grumbled about having slept poorly, and prepared to spend another leisurely morning over breakfast and tea. We brought knitting/crosswords/book/laptop and sat for about two hours in another half-booth. Around 12:30pm we stopped back in at the room to drop some extra stuff off, and left for Canada! Saint John seems to be a lovely small city. The architecture is brick-heavy, and the lovely chill air was refreshing. It drizzled as we explored the downtown area near the port.
We located the post office, which occupied a small corner of a drug store and bought stamps, Canadian KitKat and some Lindt chocolate (Carnival does not have any quality chocolate. Not complaining - at this price point, I don't expect it - but we both missed having it around to nosh on). After determining that we had some time to spare, we ducked into a tea/coffee house, and I splurged (yes, I consider having tea 'out' to be splurging - I usually like it better the way I brew it at home and it's much cheaper, but my options are limited here :-) on a cup of tea. I was impressed by the tetrahedral teabag, which was plenty strong for the large capacity mug.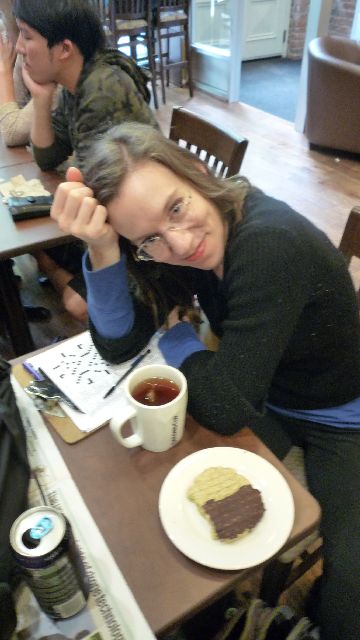 I also enjoyed an oatcake. OMG. So delicious. I chose one with chocolate on half of it, and ate that half preferentially. I plan to adorn the plain half with jam or marmalade at some later teatime. We relaxed with our respective diversions (crossword puzzle, local free paper) for about an hour. Later, once we were back in the room, Alex surprised me with a bag of a week's supply of oatcakes. Awwwww!
The ninja notice near the oatcakes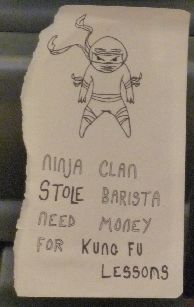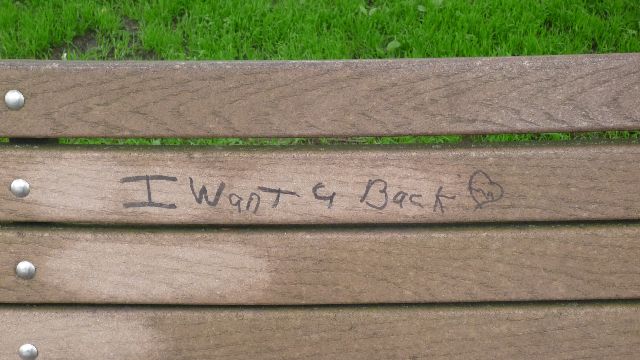 Pining graffiti everywhere, this one in the park.
So much brick!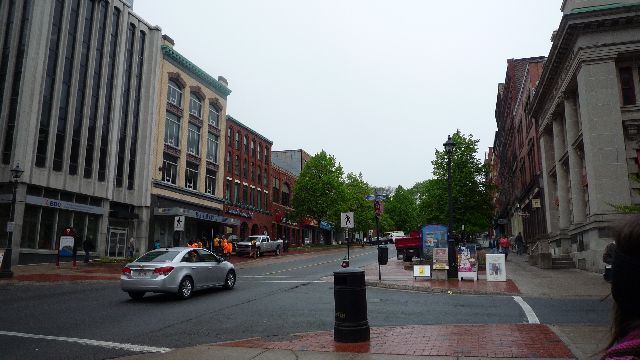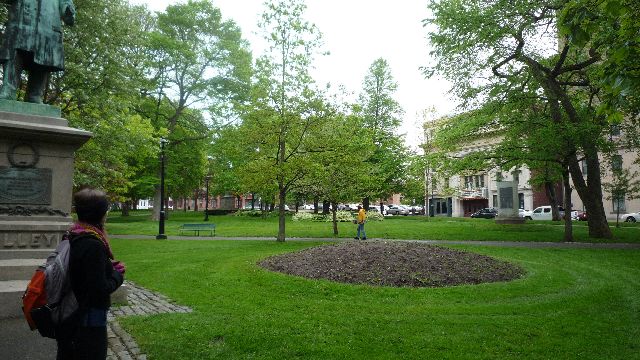 A very green little park.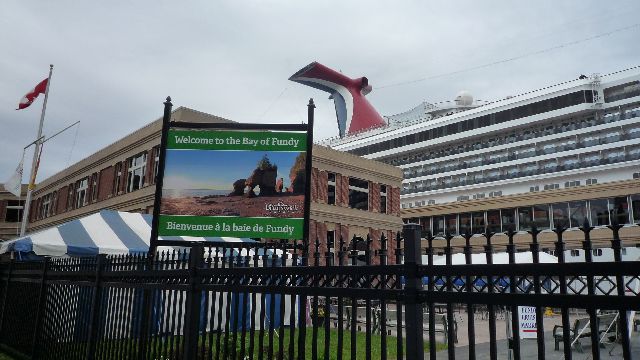 It was near must-board-before time so we headed back to the ship. Reentry was simple (show passport and ship ID; put backpacks through x-ray and walk through the human checker thing). In line to get back onto the ship, we started chatting with a 50-something couple from Long Island (NY) on their first cruise ever. Alex asked them how they liked it so far, and the woman said that she was about ready to jump ship. Specifically, she seemed unhappy with the food, saying that it was all too unhealthy. She noted that the veggies in the restaurant are smothered in stuff. We spent the next twenty minutes talking about their options, informing them about the *actual* beverage policy (they didn't know that they could bring soda on board but only at initial boarding). They also didn't realize that the tap water is not potable (!!). Yes, that's why it tasted disgusting! I told them about how I'm a pretty picky eater in some senses (not some typical ways, but nonetheless, particular, even peculiar, to say the least) and I do just fine. I shan't recount all the points here, but after we parted ways Alex surmised that he thinks there's a very good chance that their cruise experience will improve as a direct result of our combination. I just hated to think that they would continue on the cruise and have a shitty experience. It doesn't have to be that way; you just have to get creative. This woman will now be stashing stuff from one meal to enjoy at some later time, just like I do. You just gotta do it yourself, sometimes. Even though I get cranky and whiny once in a while, I'm just venting. I take full responsibility for my enjoyment, and that has come in handy on a cruiseship.
In the late afternoon, I stayed in the room typing this blog while Alex watched the ship leaving Saint John. Around 6:30pm, A brought me to the gym, where I stayed for 30 min or so while he did some more exploring. Using the treadmill at the very front middle of the ship is really cool. As I did some stretching - which I sorely needed - I overheard some others who were clearly on the performance staff. On our first cruise, I found out that the performers work out on their non-performance days. They occasionally break into song and do or say other things that seem consistent with a life on the drama end of things. Alex picked me up around 7pm and we headed to the hot tub on the adults only deck (13), directly above the gym (i.e. also at the far front of the ship). Because it was quite chilly and actively raining, albeit lightly, the deck was deserted. Being in the hot tub while the air was so cool and raindrop laden was really nice. After that, it was time to get ready for dinner (casual dress tonight), which turned out to be very interesting indeed. The unlimited-alcohol couple, Walter and Judy, were absent, and the Chinese couple had gotten there first and reclaimed their seats from the first night, directly opposite our Canadian friends. I wondered about the protocol/etiquette of switching seats, and Cathy (Ottowan) told me that people generally keep the same seats. She agreed that that isn't ideal; I would like to mix and match, and then concentrate on chatting with those with whom I seem to have a good rapport, rather than being stuck with one couple just by chance. The dining room is too noisy to converse with those more than two seats away. After dinner, there was some silly dancing by the staff, some new line dance, apparently, and Alex and I got up to dance, too. I spied over Alex's shoulder (this was a slow song, actually) the drinking Judy, sitting at the next table, and in a hat, apparently an attempt at a disguise! I feel bad that she felt as if she had to switch tables, but maybe the conversation with the Asian couple proved too laborious the previous night. Cathy had told us that Judy had been very unhappy with the service, so perhaps she requested a transfer based on the waitstaff. Oh well. The six of us had some okay conversation, though it wasn't as fun as just talking to the Canadians the previous night. We left around 9:55pm to make it to the show at 10pm: The Match Game/Game of Love. This was a hoot last time (married couples asked various questions, his and her answers compared resulting in much hilarity), but my impression that this entertainment director is not as smooth as the guy on our first cruise was further confirmed. There were some pretty fun moments, though the overall sentiment was not nearly as sweet as the other show we saw. Alex and I answered some of the questions on our own, and A gave a particularly sweet answer to one of them. The question was: What part of your partner's body would you make smaller? and what part would you make bigger? The couples on stage gave mostly unsurprising answers - smaller butt or mouth!, larger breasts for the women; smaller belly (one said chest), larger penis (one said arm muscles - same one who'd said chest) for the men. For me, A said that he'd make smaller the bone spur on the top of my foot that bothers me in certain shoes, and that he'd make everything else bigger (he's always encouraging me to eat more). After the game, we retreated to our cabin. Tomorrow is our first day at sea on this ship, and we're looking forward to it.
Day 4 - Wednesday 12 June 2013 - Day at Sea
Awoke before 8am, but I had been woken up numerous times and wasn't quite ready to get up. So Alex went to explore the sit-down brunch and redeem his one drink voucher for a mimosa. He ended up meeting a German couple at the table at which he was seated. I was sorry to hear that I'd missed that, but glad for the extra half hour or so of rest I got, even if I didn't actually get back to sleep. The effects of the Dramamine were appreciated, but the motion of the ship was more pronounced as the day wore on and I took another dosage. We learned that when the ship is moving more slowly, the effects of the waves are felt more strongly - that makes perfect sense - and apparently the comfort of the passengers is taken into account when deciding how and when to make up time (or delay by going slower); arrival into port is set at a certain time, and we can't just power through (more comfortable ride, perhaps) and arrive early to the port. We learned all this in a conversation with our dinner buddy, whom we ran into by chance in the afternoon. He told us about the pilot boat that takes over steering the ship once it has moved into the waters of the port. The pilot, an actual person, comes aboard the cruise ship and oversees (maybe hands-on, if necessary? all this stuff is done by computer settings now, though) steering the ship into the slip (?). I apologize for any misuse of nautical terms and am glad to edit this section as necessary!
After Alex's successful foraging in the formal arena, we packed up our various diversions and camped in a lovely half-booth while I had breakfast and then tea. We computed, knitted, did a crossword or two, played Scrabble. For much of this time I was facing the back of the ship, and I think this may have been ill-advised. I felt the effects of motion sickness more and more, and ended up taking more Dramamine to combat it. Walking to the aft of the ship,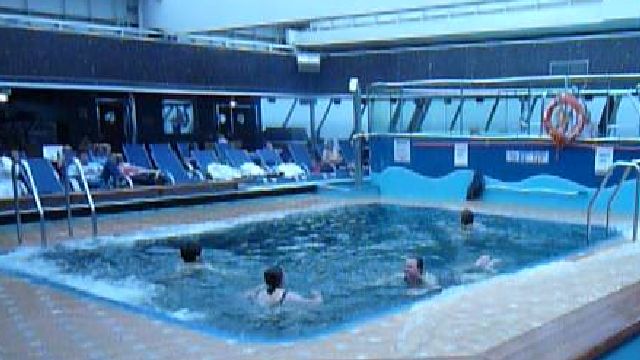 we observed the pool there demonstrating the roll, and we could see the pitch by looking out onto the horizon. Video documentation of this was attempted, but the fog was quite dense all day and the horizon wasn't well seen on the video. While the foghorn (which sounds for about three seconds every (?) ten minutes when visibility is under a certain distance - I expect we'll learn more on our tour on Saturday behind the scenes... we're excited about that) is disturbingly loud if one is out on the deck when it sounds, the sound is lovely and comforting, somehow, when heard from within the ship. It sounded often during the morning and less so later on when the fog had cleared some. The weather conditions were announced overhead: 10° Celsius, travel speed 7 knots, wind 15-20 knots. Several forays onto the open deck for some fresh air did help me feel better, but it was chilly and blowy so I didn't stay out all that long.
After a half-hour nap-like rest in the room, I went to the free boot camp thing at the gym (Alex called me brave - not quite crazy - for doing this despite feeling somewhat icky from sea sickness), which was also attended by three young Filipinos on a family reunion cruise (they apparently are scattered across several nations). We started late, but got in a short-but-sweet workout. After a shower and another short rest, A and I went up for some dinner. We had decided to skip the dining room, partly because we wanted pizza, which is available 24/7 at the aft of the ship, but also because our table is at the far aft of the ship and I didn't want to exacerbate the motion sickness; also, I just didn't feel like sitting with a large group in the loud room. We'd told Peter the Canadian that we planned to skip the dining room, and he insinuated that he might do the same, in favor of watching an important hockey game.
At 7:30pm we went to the comedy club for the 'family-friendly' show featuring the comedian we hadn't yet seen. It was so-so, and I think I would've had a good chance of liking his adult-only comedy better. I was really tired by this time, so we returned to the cabin and took a two-hour nap, followed by room service: cereal and milk, toast and jam. It's nice to have some semblance of the foods I find comforting. Tomorrow will be an early day, as we plan to be up on deck to see the ship come into Halifax, Nova Scotia.
Day 5 - Thurs 13 June 2013 - Halifax, Nova Scotia, Canada
We stayed up until 2:30am, then slept a few hours before our early morning harbor watch, which turned out to be way more interesting and fulfilling than I could have imagined as I somewhat grumpily got dressed in the wee hours. The sun was already fully up by our 6:30am arrival on deck 10 forward. We very much appreciated the scooped edge of the wall at the front of the deck, which directs the large mass of air upwards instead of into the faces of those on the deck. It was still windy out there, and plenty chilly (maybe 40-45F?), but I'd brought a jacket, hat, ear warmers and light gloves. Our Canadian narrator arrived up on the deck by 7am or so, and we spent the next hour plus observing the goings-on. We learned about the topography of the area, and this made looking at the port area from on land later on that day much more interesting. We observed the change in the conditions as we entered the more sheltered areas, and finally passed through the neck of the harbor into Halifax. We actually *saw* the pilot boat approaching, round the aft of the cruise ship, and transfer the pilot onto the Glory. That happens way before the neck of the harbor, at which point the water is about 60 feet deep (not that deep, so I'm thinking that the captain would be glad to hand over control to the pilot)!
The Halifax pilot coming out to pace us.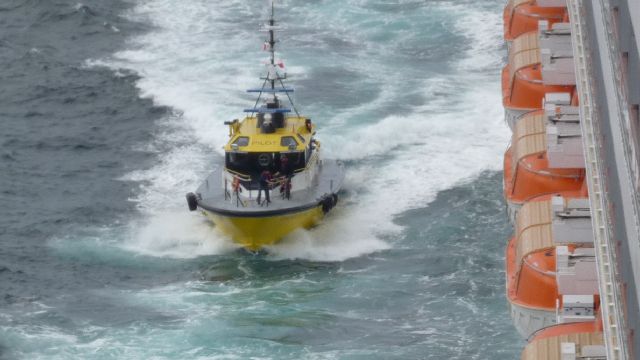 Same madman, but much closer to the Glory.
The Halifax pilot jumping to the Glory.
The orange lifeboats are way higher than the yellow boat.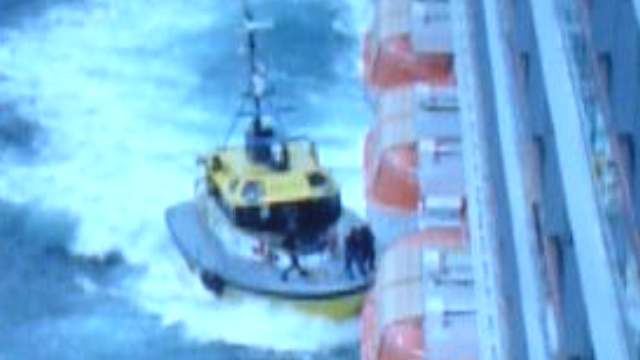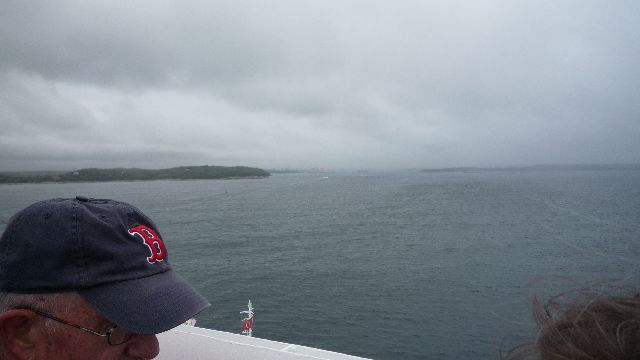 Peter showing Jenny the Halifax harbor entry.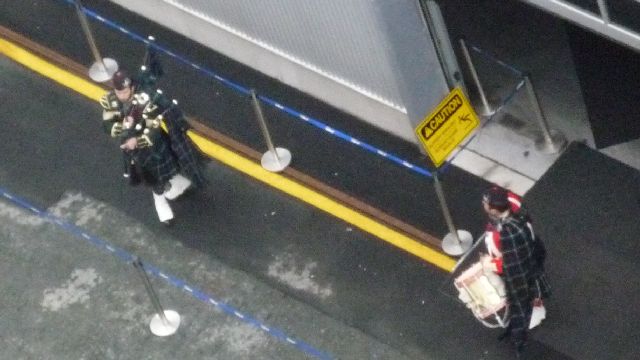 As we pulled up to the dock, we watched the ropes being thrown out and secured onto the big anvil-shaped things. A bagpiper in a kilt and all the other regalia you'd expect played to welcome the ship. We went in, got cleaned up, caffeinated, and fed, and then ventured out into Halifax. From about 9:45am until 2pm we wandered around the city, which was very clean. The architecture is a nice mix of modern and traditional, with lots of brick. We walked around the touristy pier area, where two lasses in traditional garb busked.
One place sold bacon lollipops (yes, we did buy one :-) Jenny demanded this chocolate-covered bacon strip on a stick with unfettered glee, which dimmed abruptly after the first few chompings - it had a flavor found far afield from her frequented foods ;-)
It was quite chilly, but we kept moving to stay warm. Alex wasn't quite as cold, and I definitely got teased about being a Northerner and yet feeling cold in not-so-cold temps. A local confirmed that the weather was cold compared to their norm. They'd already had temps in the 30C range the week prior. We learned lots about local history from reading placards; the Great Displacement (an attempt at ethnic cleansing perpetrated by the British settlers against the Acadians) is a major black mark. There was also a devastating explosion of a ship of munitions in December 1917, the death toll of which was higher than the number of lives lost in the Great War. We walked up the hill to the Citadel and around its perimeter. Many Haligonians (what a great demonym!) seemed to be out walking on their lunch breaks, some with iPhones or tablets an earbuds. Signs are bilingual, in English and French. There's plenty of green - moss, lichen, lovely brushy things with little flowers - heather, perhaps. The city has a European feel to it.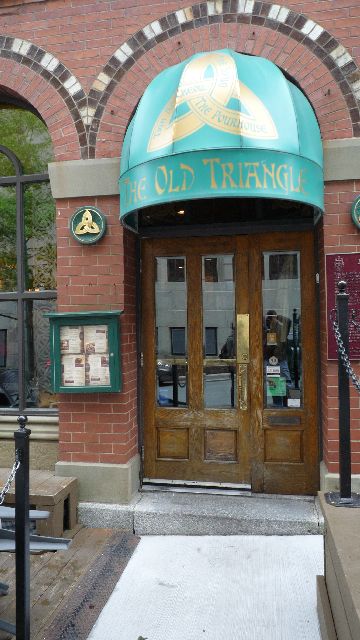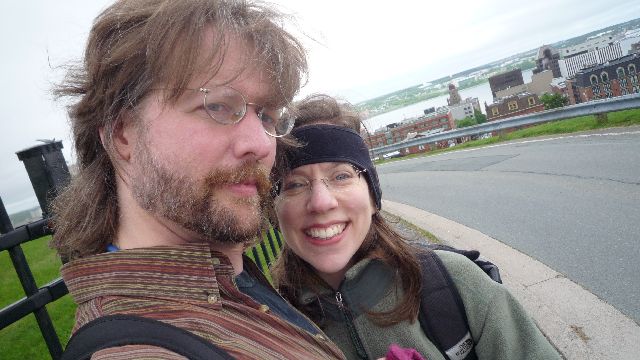 Alex and Jenny, windblown, in brisk weather on the Halifax Citadel hill.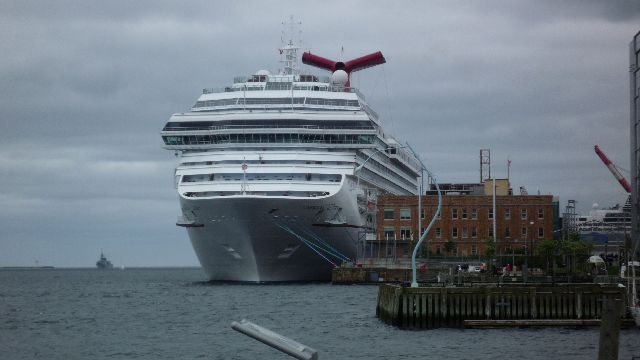 We returned to the ship and after a quick stop in the room to drop off our outdoor gear, we went up to camp in a half-booth. There was a guy at the next table whose voice just rankled me so... I think I was suffering a bit from sensory overload. Too much talking-music-din. Once he left, I felt better. His voice was in the 'unignorable' category, and the content of his speech that of the overly-confident I-know-how-the-world-works-already-set-in-my-opinions variety. Ugh.
Alex and I played Scrabble, our third game this trip, and the only one I've won. We took pictures of words played which were relevant to the setting: CRUISING was one of them. Around 5pm, we went to the hot tub at the front of the ship (deck 12, adults only) and though it wasn't hot enough (one of the few complaints we'll be writing to Carnival about), we enjoyed seeing the ship leave Halifax from that vantage point, three decks above whence we'd observed our arrival that morning. It was fun to see in reverse all the landmarks we'd seen in the wee hours as the ship approached Halifax.
I tried to go to the gym, but was feeling a little underpowered, so I quit early, breaking for the first time the rule Alex and I had made to stay within 7 meters of one another or stay in same place until appointed pickup time. I left the gym to get a snack at the buffet, and quickly found Alex by chance. He was there hanging out until it was time to get me at the gym, and totally agreed with my decision to override the rule we'd set. I needed a shower, so after cobbling together a DIY dinner (thin-crust pizza, with various meats and salad to supplement) we returned to our cabin. This was the one meal we'd eat in our cabin; I couldn't stand the thought of eating the far aft of the ship again, as I was still borderline queasy. That, combined with how loud the dining room is, makes conversation laborious, and eating while talking like that is just too exhausting sometimes. This cruise is proving to be a bit louder than our first one, somehow, and I don't think that is something one can predict.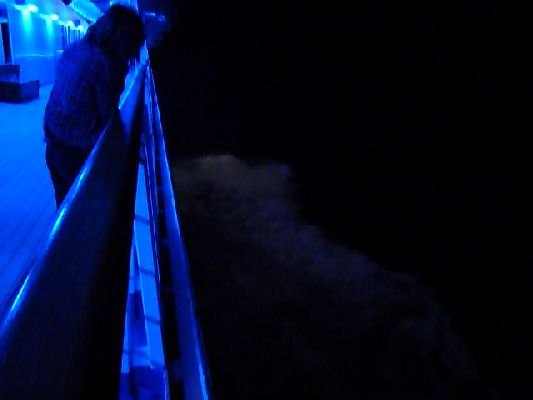 At 10pm there was to be a show, a musical review of big soul singers. We only stayed for about 20 minutes, because it was just okay. Very talented main singer and backup (3 women, four men, and a live band), but not all that interesting. We tried to go to a magic show, but the venue was so ill-chosen that we couldn't see or hear anything. The lounge was too small, and seating was in the round, but the act required seeing the front of the magician's actions; also, he was unmiked... we weren't the only ones to leave. We had some time to kill before the comedian at 11:30pm, so we danced for a few songs in the night club, returned to our cabin to rehydrate, and went out onto deck 3 to watch the water. The seas were the roughest we've seen to date in our cruising life. I'm glad that I have the Dramamine; without it, I don't think I'd actually vomit, but I'd be uncomfortable (based on how I felt the other night).
The comedian was Ronnie Bullard, and we'd seen him on the Conquest. We found a seat with two other couples in a round booth, and chatted a bit before he went on. The comedian did not disappoint, and we're glad that he's on (original material) the next two nights. It was a positive end to a very long day. One more day in Nova Scotia (Nouvelle-Ecosse) tomorrow - Sydney - and then a Day at Sea before we return to Boston on Sunday morning.
Day 5 - Friday June 14 2013 - Sydney, Nova Scotia, Canada
Sydney, Nova Scotia Today we were in Sydney, Nova Scotia. Even the cruise director, on an overhead announcement last evening, said that there's not much to do in Sydney (his point was that one might consider scheduling an excursion as otherwise one might be bored), so we didn't rush getting up and out in the morning. Also, we have two early mornings ahead of us (Sat for the behind-the-scenes tour, Sun for disembarkation) so it made sense to sleep in. We went up to the dining floor around 11:30am, and camped out for an hour plus. I chatted with a family playing a board game and eating lunch at the next booth; they'd already been off the ship and didn't plan on going back out and confirmed the impression given by the cruise director's announcement. The town looked placid and suburban, with very normal-looking houses on the road running along the shore and a cluster of businesses visible down a bit. So we ventured forth into the chilly air (it also drizzled off and on), exploring the town for a few hours. We ended up in a women's clothing boutique, and I tried on and bought (this is so rare that I need to emphasize how special it was to find and feel the need to purchase a garment! New! Not on sale!) a dress. It was a designer label, but very simple in design; well made, black with grey stripes, a versatile LBD (little black dress). I could think of no reason not to buy it, so I bought it. Tonight's dinner was the second (and final) with elegant attire, so I gave it a test drive, and it passed with flying colors. We have pictures.
Jenny wanted to turn these dandelions into salad.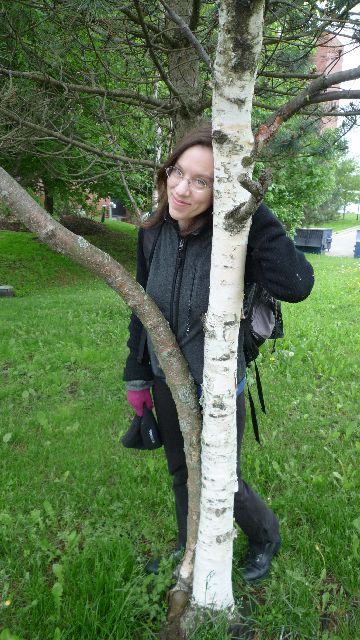 These appeared to be the same tree, despite being different colors.
In the rain, about to try (not entirely successfully) to denude a dandelion.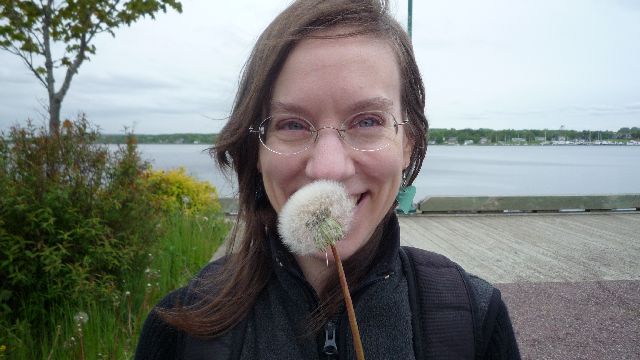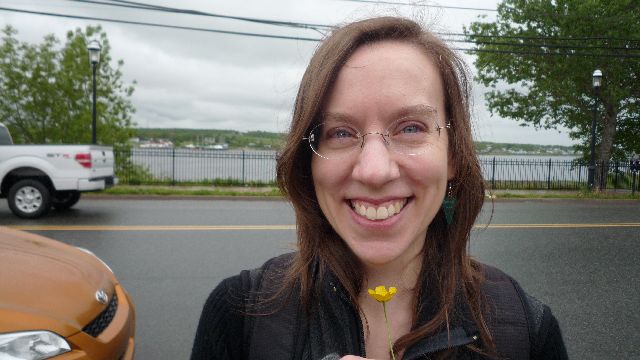 Testing for flower reflection from the chin - yep, a yellow glow ;-)
Three sets of two or more lines each moor this end of the Glory.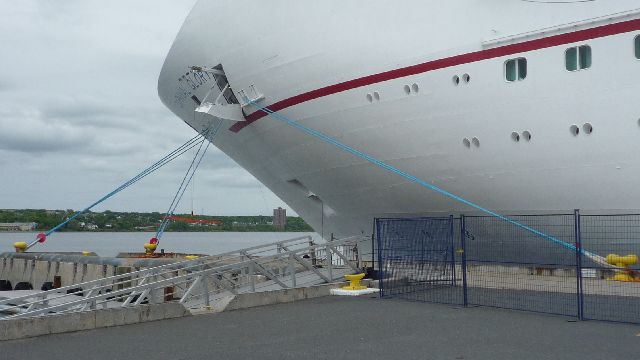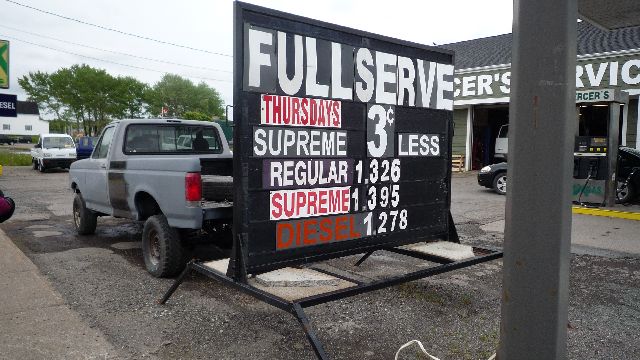 Fuel prices look pretty amazing if you're thinking in imperial measures.
After reboarding the ship (BTW, the Canadian authorities barely checked our IDs at the gate upon entering) around 3:30pm, we did our camp-out thing up on deck 9 and ended up in a very nice conversation with a couple from Florida who'd spent some time in Germany and Italy. Then it was time for the ship to set back out to sea, and we enjoyed watching it back out from its parking spot at the pier and rotate out to a position conducive to heading out the neck of the harbor. Language and Word Trivia was on the schedule, so we did that (only 30 minutes), and then I had a quick workout in the gym. By then it was time to get showered and ready for dinner, which we very much enjoyed - animated conversation, photos, a Gangnam Style performance by the waitstaff. We still had almost half a bottle of mead left, so this time we each had a glass, which we brought to the dining room in the glasses from our room. A nice way to do things, we thought.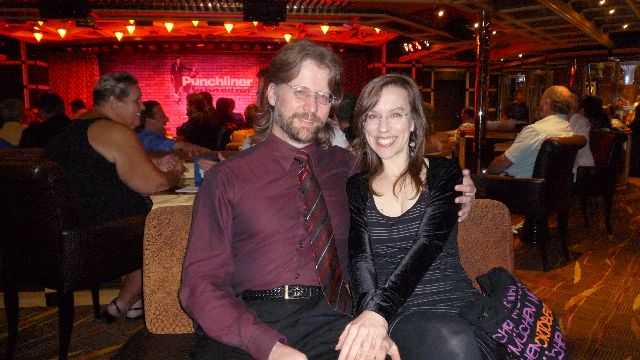 After dinner, we enjoyed two comedy shows, back to back. One was Ronnie Bullard, the guy from the previous night's show. His material was indeed different from last night's, but I remembered tonight's material from his set aboard the Conquest back in March. However, his style is so delightful that it was still enjoyable. The second comedian was also pretty good, but a little bit too one-note in timbre, if that can be said of comedy. His name is Dean Austin, and he's on some TV shows as well. Between this cruise and the Caribbean one, we'd been to the Punchliner Comedy club probably close to a dozen times, and the theme song had both etched itself into my brain; I mused about the kind of market research that must have gone into choosing it as what effectively amounts to an anthem for a wide range of cruisers out to enjoy a wide variety of comedy (the theme song is the same for the family-friendly shows and the adult-only shows). I made a note to look up the song after I got back to the land of internet access, and I learned that it's by Joe Cocker, back in 1975. Here's the chorus:
Sayin' it's fun time, fun time
Let yourself be happy, it's fun time
Shake time, you deserve a break time
It's fun time, for U S all
[I always thought he was singing 'share time'. And yes, he really does spell out the word 'us'.]
Alex and Jenny in the Punchliner Comedy club.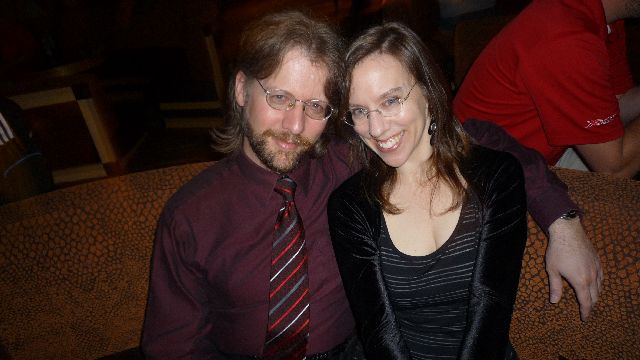 After the comedy shows, it was bedtime. Tomorrow is our last day and we need to be well-rested for the tour, which begins at 9:30am.
Day 6 - Sat 15 June 2013 - Day at Sea
* * * This is the least-edited section of this write-up, but I tried to get the big points across. If there's something you want to know, just ask! * * *
We set our alarms to allow enough time to get ready before the brunch began at 8:30pm. This would be the one time during the whole cruise that Alex and I ate brunch together in the formal dining room. Every other breakfast, brunch or lunch we ate was in the cafeteria-style dining hall up on deck 9. The Behind the Fun tour was to begin at 9:30am, but, puzzlingly, our tickets (yes, they print actual tickets when you book an excursion, and they take them when you check in, so they're not just for show) specified "Departs: Meet at library at 9:15am" one line above the line which read "Departure Time: 9:30am". So we were under some time pressure, but I figured we'd make it just fine. We arrived just as the Golden Restaurant opened, and were asked if we were okay sharing a table with others. This is where my decision to say 'yes' ended up not serving us very well... I don't like saying 'no', and it seemed wrong to me to turn down an opportunity to meet other cruisers. We have, indeed, met some very interesting people on this cruise. Well, thirty minutes later, our orders had been taken (but only after our table had filled up and even then it took maybe ten minutes), but our table of twelve had only a bread basket and butter upon it. Coffee had been offered, but the only food that had arrived were plates for those who had ordered the cottage cheese and fruit plate. Knowing that the tour would last for 3.5 hours or longer, I had ordered 'real food', an omelet in this case. We told our waiter maybe fifteen minutes after our order had been taken that we were under some time pressure, but this didn't change things. Food came randomly, and some of the first to be served were those who'd arrived five or ten minutes after us. I take some responsibility for not letting the waiter know earlier that we had an event, but ultimately I think we should have sat by ourselves at our own table. Then we wouldn't have had to wait until everyone was seated to be waited on. And a table of 14 isn't even conducive to good conversation, so it was a real bummer that it was a lose-lose situation. We ended up bailing ten minutes before our cutoff time of 9:30am, grabbing some cold cuts and cheese and toast, and scarfing them down on the way to the library, where we were the last tourgoers to arrive. For me, this beginning was a rocky start, and even though I carried a grudge against the universe for a while, I really enjoyed the tour.
The tour: I should begin by saying that there is simply too much to say. We learned a lot about the inner workings of a cruise ship, but even with me, a champion question asker, and several other curious types, the tour left me with many more unanswered questions. Some examples we thought of over the course of the day: What is the average age of Carnival employees, and how does this vary by role (i.e. management, crew, staff, officers)? What is the average length of employment? I'd have liked to see an actual crew member's cabin. What kind of health insurance is provided to the crew? Does it vary by role? Is there a pharmacy on board for crew? Is there a facility (other than the overpriced Salon up on the Spa deck) for crew to get haircuts? What percentage of food prepared is wasted? (Seems like a high percentage, like 30%, maybe. Sad.) Mention was made of food waste disposal, but in very vague terms, i.e. "Food waste is disposed of in the most appropriate manner." Some food is incinerated, but the majority is packaged up (we saw some of these huge plastic-wrapped pellets); what is incinerated?
TOUR: Areas visited: muster stations, out to the observation deck (below the bridge, where we had our picture taken; incidentally, the spare anchor is stored there - it weighs 8 tons!), stage/performers (huge matrix of screens, the dancers have to wash their own uniforms!; we learned that there are safety switches to sense if things are moving too much, and that shows are occasionally cancelled if the sea is too rough. The stage, after all, is at the very front of the ship.), laundry (huge washing machines (automatic settings for sheets/towels/napkins), and dryers (huge lint trap), and a neato sheet pressing and folding machine with lots of belts), galley (including meat freezer, meat thawing room, a potato prep room, huge vats of stewed things, and a food artist who was busy carving an elaborate watermelon sculpture; he carved a small rose out of a thick carrot while we were talking there, and then skewered it and handed it to me!), engine control room (Mario the Croatian engineer talked to us. We were standing amongst the controls and observed that they seem to run Windows for at least some programs, and there were usernames and passwords posted (!!) above several computer screens; there are 2 large engines and 4 smaller ones), crew and staff mess hall, crew gym facility (they can use this 24/7, but all crew can use the guest gym in their off-duty time on port days, and during certain evening hours (it's open until 10pm). Crew are provided free Tylenol, aspirin and meclizine (Dramamine). Crew sign contracts of varying length (from between 6 to 9 months); between contracts they have at least 4 weeks off, but a standard arrangement seems to be 8 months on, 8 weeks off. The maximum break between contracts is 6 months before losing seniority and having start at the bottom again. Those with the least developed English-speaking skills work in non-guest facing roles, and those with some English-speaking ability start in lower ranks and can move up. Some start in the crew mess hall and advance to bussing positions out in the guest dining area (cafeteria/buffet areas). From there, they can eventually move into positions in the dining rooms. The housekeeping staff and the waitstaff all receive compensation based largely on tips, which are paid at the end of one's cruise. Unlike on other cruise lines, The officers' dining room has nice leathery chairs and a porthole behind the captain's chair. Crew has an Internet cafe but they still have to pay per minute of usage ($10 for 100 minutes, I think). Phone calls are way expensive out at sea, so many take care of communications when in port. There is a morgue, and next to it, a brig! The A/C works by cooling water and the air blows over that. News from the bridge: they have GPS and radar, and there is continual watch by humans (two, one at each side, looking out the entire time); a shelf in the center of the bridge holds one of several pairs of binoculars and a box of tissues. The ship is on auto-pilot mostly, and this allowed the captain to jovially turn the surprisingly small (and not wood!) and lowly-positioned (mid-thigh level) steering wheel back and forth to demonstrate that it was turned off. There's an indicator on the ceiling showing the rudder angle.
See? So much to see and learn. Highlights from the tour: looking out from the bridge; viewing the ocean and edge of the boat through a window in the floor (captain uses this to position the ship when parking at the pier); meeting the captain (a diminutive Italian with many moles on his head/face, a small potbelly, and a strong accent which was way easier to understand in person than over the loudspeaker; his English is actually very good, as I'd expect it to be). About lifeboats and abandoning ship: the crew have their own liferafts, which will autodeploy if submerged under a certain amount of water. There are enough lifeboats such that even if one entire side of the ship is under water, the remaining lifeboats on the other side have sufficient capacity to evacuate all passengers. The boats (we did not see inside them, but this is how they were described) have benches marked with little circles indicating where your bum goes (the tour guide did say "bum", and you can imagine that word pronounced with her Liverpool accent); the circles are apparently pretty small, and that makes sense. You'd be packed in pretty tightly. We did learn that the pilot really is just an advisor. The HR chick running the tour (a Brit from Liverpool) said that the has a pretty cushy job, and imitated him sipping coffee and then pocketing a nice sum when done with his little ride-along.
**** The above stuff about the tour was written the evening of the tour, and then I took a break of several days, so what follows is much abbreviated... *****
Towel Lovebirds. Awwwww.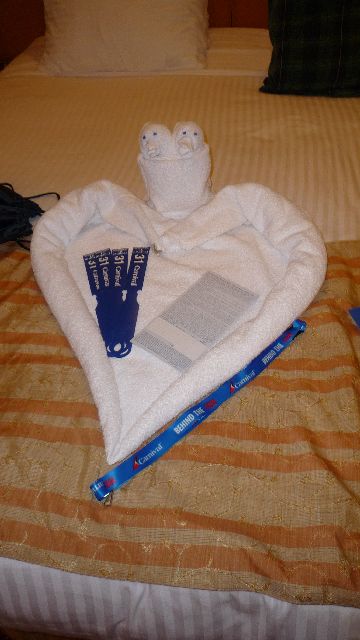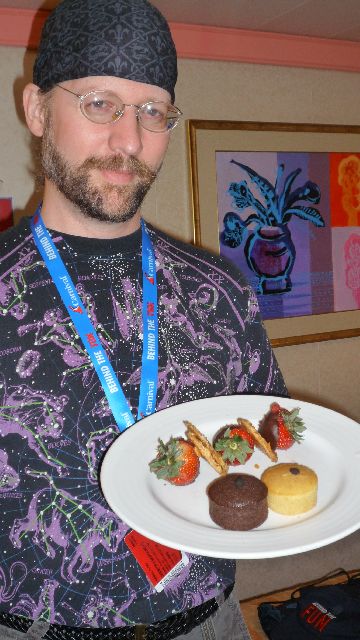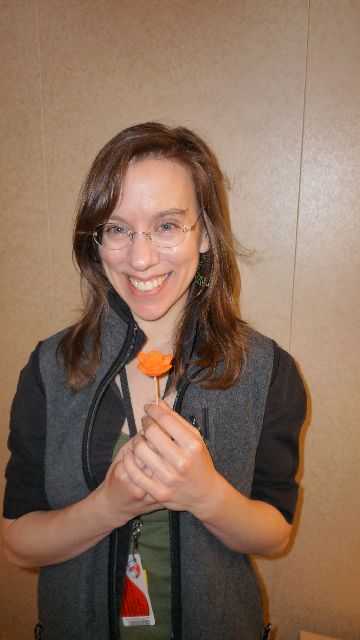 Jenny with her foodcarver's carrot.
After the tour, we returned to our room for a bit to change gear and freshen up, and room service knocked... we hadn't ordered anything, so it was puzzling, until we opened the door to find that Carnival had sent us tour-goers a nice post-tour treat of chocolate-covered strawberries. (There was other stuff on the tray but it was inferior, whereas the strawberries were awesome.) Then it was time for tea, a quick workout, and then comedy club and dinner. Alex had learned that the Canadians wouldn't be at dinner, so I was thinking we should skip the dining room, but on parting from Justine, our tour guide, at the tour's conclusion, she had hinted that she would see us later (I asked "Where?" and she said it would be a surprise). We went to the family show of Ronnie Bullard, which was quite funny, and then to the dining room. We were alone at the table until about 9pm, when Justine showed up with a smile, bearing two cardboard sheaths containing the photographs taken during the tour. One is of our group at the front of the ship, and the other was taken on the bridge, with the ship's captain. The Canadians also showed up for dessert. So we were really glad that we'd come to dinner after all (Alex was the one who'd pushed for it)!
We spent a bit of time packing, and then got a few hours sleep. Disembarkation was to start at 7:15am, and we wanted to get some breakfast before that.
Day 7 - Sunday 16 June 2013 - Back in Boston
Alarm at 6:30am - ugh! This very early morning stuff during vacation sort of feels like work :-) (Our flights to and from Manchester were pre-6AM, so we were up and out at 4-something. Yuck!) We packed up our final stuff and grabbed a bite to eat. Yes, we still took the stairs up to deck 9 that morning! Disembarkation began, and since we were doing self-carry (instead of waiting for bags to be carried out and for your number to be called, or something silly and time-consuming like that), we got to it. We snagged an elevator to the third floor/lobby, and it was very quick. Cards are swiped to check guests out of the ship, and then there are skywalk ramps to the cruise terminal. No passport check, just a guy taking customs forms. I think they do spot-checks, but we were not chosen. By 8am we were out by the taxi stand, and called my mother and brother, who were on their way to pick us up. They arrived by 8:30am, and we were on our way back to NH. Before arriving at my parents' house, we made a stop at Dunkin' Donuts. Father's Day treats!
So, we successfully survived another week at sea, but will we do it again? It didn't take long to come to the consensus that though we have enjoyed our journeys, any future endeavors aboard a ship would need to be accompanied by some major differences from our experiences so far. We're not the 'ohthefoodissogreatoncruises' variety (though certainly there is plenty of quite edible stuff, even if one does have to be careful and search it out a bit), and one tires of only seeing any given port city for seven or eight hours max (and all of those daytime hours). A transatlantic cruise remains a possibility (the waters would be *very* different out there, I suspect), but there are no specific plans. Apart from the cruise, the adventure of uninterrupted togetherness of two weeks was an interesting challenge, and one we navigated quite well, I'd say. We're glad to be home in Austin, and look forward to the next adventure, whatever that might be.